Steven Skinner BlackTree Studio Ceramics
BlackTree Studio


The best ideas I ever had came while I was milking a cow. ~Grant Wood
Artist Statement
I've been a professional artist all my life. My pottery embodies my training as a fine artist, my attraction to printmaking, painting, and sculpture, plus my interests in American Regionalist art, Dada, and art from ancient cultures.

I love the medium of clay. Its "organic" nature allows me to explore its texture, color, and malleability. As an artist and potter I want the clay to show evidence of my working hand, and to experience its response as I work throwing, slapping, rolling, and sculpting it. I use hand building and wheel throwing techniques, combining different clays to create lines, patterns, and textures that reflect gestures of hand. I respect the technical challenges of clay as a medium, and the physical process of kiln firing, I enjoy also the challenge of pushing pottery making "traditions" by experimenting with materials, techniques, and firing. I glaze sparingly highlighting the beauty of the clay and my marks of hand. I prefer glazes that respond to the texture and material make up of the clay.

Although my pottery is functional (to be part of daily life) with deliberate design characteristics (like my crucibles, and wrapped bowls), each work is one-of-a-kind, organic, and distinctively modern.
Artist Biography
I grew up in a small, rural community in northern Illinois. After military service, I graduated from the School of the Art Institute of Chicago where I studied lithography, oil painting, drawing, and sculpture (BFA 1981).
My career as an artist spans more than 25 years, but my passion for pottery began in 2006 when I took pottery workshop at LillStreet Studios in Chicago. In part I did so because of my experience at Chicago's Field Museum of Natural History where, employed as an exhibit preparator, I worked with artifacts designing and installing custom-fit mounts, which required an appreciation of each artifact's uniqueness. It didn't take long after that first workshop before I realized that pottery would become big in my life.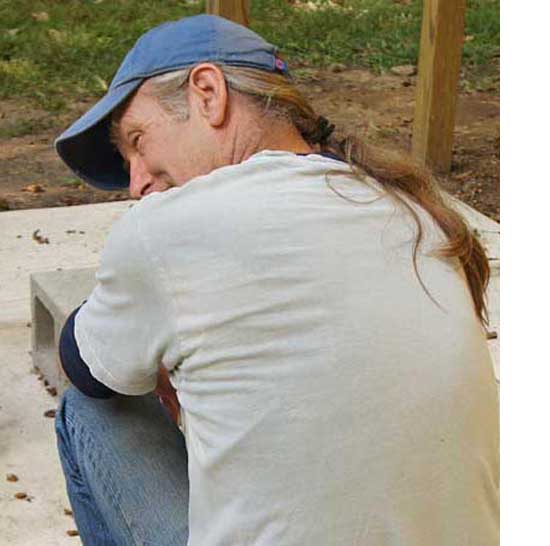 Earlier in my art career, I worked as a painter in oil, encaustic, and as a printmaker in lithography, but a desire to work in more challenging mediums led me to experiment with watercolors, which I discovered brought a creative spontaneity and expressiveness to my art. From 1988 to 2006, I worked exclusively with watercolors: my first watercolor series, (1989 to 1999), focused on Chicago's viaducts, roadways, and bridge structures; a subsequent watercolor series (1999 to 2002), combined interior structural architecture with tropical plants found in the Chicago botanical conservatories. From 2003 to 2006, I painted The Little Things, a watercolor series of objects selected for their shape, color, patina, and personal or social significance and rendered representationally, though I enhanced each object's qualities to subtly change their original character.
BigCityArt Watercolors
While making art, I have also devoted time to teaching painting and drawing at Columbia College Chicago, and The School of the Art Institute of Chicago, as well as Indiana University (South Bend). During the summer of 2006 I taught watercolor painting in Florence, Italy for Columbia College Chicago in conjunction with Santa Reparatta International School of Art.
---
Pottery...
2006
A very busy spring and summer teaching watercolor in Florence Italy, selling our house in Bucktown, purchasing a house, and moving from Chicago's Near Northwest side to five wooded acres in rural Northwest Indiana.

Prior to moving, I had been painting and teaching watercolor painting in Chicago, but upon relocating to rural Indiana I realized I could no longer paint the "urban" subject matter I had been painting while living in Chicago.

One evening while clearing away and burning brush, the realization came to me... they do pottery in the country don't they?

I knew little to nothing about pottery, but on occasion had purchased bowls from Lillstreet Studios in Chicago. It has a fantastic reputation, so I signed up for a beginning pottery course there. It was early autumn, I was teaching at Columbia College and commuting, so it was easy to fit an exploritory pottery class into my schedule.

2008
Two years passed with the realization pottery was the next big thing in my life. It was appropriate to think of my own studio, as I knew I would eventually build it and a kiln... This meant a name. I settled on BlackTree Studio because there are just about a gazzillion black walnut trees on our property, plus it was raining and the tree trunks were wet and black. Wanting to keep the name short I left out walnut. Hence BlackTree Studio Pottery.

2010 - 2012
Beginning 2010 I worked as an artist in residence at Lillstreet's Michigan pottery studio in Lakeside, Michigan. That same year my sculptural and functional pottery earned me the official designation of Indiana Artisan by the Indiana Artisan Project, a venture of the Indiana Arts Commission, Indiana Office of Tourism Development, and the Indiana Office of Community and Rural Affairs.
September 2011 I built a downdraft reduction kiln and began showing and selling my pottery at art and craft fairs in Indiana, Minnesota, Michigan, Kentucky and North Carolina.

2013 - 2015
February 2013 I replaced the screens in our enclosed back porch with insulated windows and converted it into my pottery studio. November, 2013 Louise began renting a storefront in downtown New Carlisle and opened a pottery gallery and shop where she sells BlackTree Studio pottery. She named it The Potter's Wife. We now make pottery full time and travel to fine art festivals and craft fairs around the US as well as selling pottery in selected galleries and museum shops across the country.

During August and September 2015, I along with master kiln builders Matthew Gaddie and Roger Crady built a larger car kiln in order to fire larger works as well as fire more pottery to keep pace with demand.

Present
I continue making pottery for retail and wholesale markets.
Shows we have participated in include American Craft Council Shows in St. Paul, Minnesota and Baltimore Maryland, The 57th St. Fine Art Fair in Chicago, The Fine Craft Fair, Milwaukee, American Made in Wahington, DC, plus Art Fairs in Des Moines and Marion Iowa, The indiana Artisan MarketPlace in Indianapolis, Kentucky Crafted in Lexington, Kentucky, and Cherry Creek in Denver, Colorado.
---
Résumé
Education:
1977 - 1981
The School of the Art Institute of Chicago, BFA
Printmaking, oil painting, watercolor painting, figure drawing, sculpture
Chicago, Illinois
---
Teaching Positions:
| | |
| --- | --- |
| 2007 - 2009 | Associate Professor, Indiana University South Bend, South Bend, Indiana |
| 1997 - 2007 | Associate Professor, Beginning Drawing, Drawing II, Beginning Oil Painting, Watercolor Studio, Beginning Lithography, Fine Art Department, School of Art & Design, Columbia College Chicago, Chicago, Illinois |
| 2006 | Associate Professor, Italian Architecture and Landscapes in Watercolor, Florence Italy, Fine Art Department, School of Art & Design, Columbia College Chicago, Chicago, Illinois |
| 2004 | Co-Lead Artist, Painting, watercolor painting, printmaking, Gallery 37, Chicago Department of Cultural Affairs, Chicago, Illinois |
| 1999 - 2003 | Co-Lead Artist, Architectual Watercolors, Interior Architecture Department, School of the Art Insititute of Chicago, Chicago, Illinois |
| 2002 | Assistant Artist, Water Soluable Printmaking, Gallery 37 and Anchor Graphics, Chicago Department of Cultural Affairs, Chicago, Illinois |
---
Affiliations:
| | |
| --- | --- |
| Autumn 2017 | Handbuilding Class, Krasl Art Center, St. Joseph, Michigan |
| July 2017 | Handbuilding Workshop, Krasl Art Center, St. Joseph, Michigan |
| 2017 | Juror, Krasl Art Fair on the Bluff, St. Joseph, Michigan |
| 2013 - Present | The Potter's Wife Shop & Gallery, New Carlisle, Indiana |
| 2010 - Present | Indiana Artisan, State of Indiana |
| 2008 - Present | Artist/Potter & Co-Owner, BlackTree Studio Pottery, New Carlisle, Indiana |
| 2010 - 2013 | Artist in Residence, LillStreet Art Center's LakeSide Studio, LakeSide, Michigan |
| 2013 | Indiana Artisan Juror, State of Indiana |
---
Gallery Representation:
| | |
| --- | --- |
| | The Potter's Wife Shop & Gallery, New Carlisle, IN |
| | The Nest, Michigan City, IN |
| | Indiana Artisan Gallery, French Lick, IN |
| | Indiana Artisan Gallery, Carmel, IN |
| | Plum Bottom Pottery & Gallery, Egg Harbor, WI |
| | Shaker Village of Pleasant Hill, Lexington, KY |
| | Workshop SK, Los Angeles, CA |
| | Craftsman House, St. Petersburg, FL |
| | New Editions Gallery, Lexington, KY |
| | Alapash, Chicago, IL |
| | The Secret Garden, Empire, MI |
| | Craft{s} Gallery, Louisville, KY |
| | The District Gallery & Framery, Knoxville, TN |
| | Millard Farrell Fine Art, Madison, WI |
| | Imagine Artful Things, Santa Barbara, CA |
| | The Zoo Gallery, Destin, FL |
| | Left Bank Gallery, Wellfleet, MA |
| | Wantoot Modern American Art & Craft, Mineral Point, WI |
---
Shows:
| | |
| --- | --- |
| 2018 | American Craft Council Show Baltimore, Baltimore, Maryland |
| | Indiana Artisan Marketplace, Indianapolis, Indiana |
| | American Craft Council St. Paul, St. Paul, Minnesota |
| | 57th Street Art Fair, Chicago, Illinois |
| | Columbus Arts Festival, Columbus, Ohio |
| | Cherry Creek Art Fair, Denver, Colorado |
| | 4th Street Art Festival, Bloomington, IN |
| | American Craft Council Show San Francisco, San Francisco, California |
| | American Craft Exposition (ACE), Chicago Botanic Garden, Glencoe, Illinois |
| | Journeyman Distillery, Three Oaks, Michigan |
| | One of a Kind, Chicago, Illinois (Pending) |
---
| | |
| --- | --- |
| 2017 | American Craft Council Show Baltimore, Baltimore, Maryland |
| | Journeyman Distillery, Three Oaks, Michigan |
| | Indiana Artisan Marketplace, Indianapolis, Indiana |
| | Kentucky Crafted: The Market, Lexington, Kentucky |
| | 57th Street Art Fair, Hyde Park, Chicago, Illinois |
| | Cherry Creek Arts Festival, Denver, Colorado |
| | Morning Glory Fine Craft Fair, Milwaukee, Wisconsin |
| | Art Fair on the Square, Lake Forest, Illinois |
| | Journeyman Distillery, Three Oaks, Michigan |
---
| | |
| --- | --- |
| 2016 | American Made Show, Washington, DC |
| | Kentucky Crafted: The Market, Lexington, Kentucky |
| | Indiana Artisan Marketplace, Indianapolis, Indiana |
| | Lower Town Arts Festival, Padukah, Kentucky |
| | East Lansing Art Festival, East Lansing, Michigan |
| | 57th Street Art Fair, Hyde Park, Chicago, Illinois |
| | Cherry Creek Arts Festival, Denver, Colorado |
| | Geneva Art Fair, Geneva, Illinois |
| | Morning Glory Fine Craft Fair, Milwaukee, Wisconsin |
| | Art Fair on the Square, Lake Forest, Illinois |
| | Journeyman Distillery, Three Oaks, Michigan |
| | Indiana Artisan Holiday Market, Indianapolis, Indiana |
---
| | |
| --- | --- |
| 2015 | American Made Show, Washington, DC |
| | Kentucky Crafted: The Market, Lexington, Kentucky |
| | Indiana Artisan Marketplace, Indianapolis, Indiana |
| | Marion Arts Festival, Marion, Iowa |
| | 57th Street Art Fair, Hyde Park, Chicago, Illinois |
| | Cherry Creek Arts Festival, Cherry Creek, Denver, Colorado |
| | Lubeznik Lakefront Festival, Michigan City, Indiana |
| | The Fine Furnishing Show, Milwaukee, Wisconsin |
| | The Fine Furnishing Show, Pawtucket, Rhode Island |
| | Indiana Artisan Holiday Market, Indianapolis, Indiana |
---
| | |
| --- | --- |
| 2014 | Kentucky Crafted: The Market, Lexington, Kentucky |
| | Indiana Artisan Marketplace, Indianapolis, Indiana |
| | American Craft Council Show St. Paul, St. Paul, Minnesota |
| | Marion Arts Festival, Marion, Iowa |
| | 57th Street Art Fair, Hyde Park, Chicago Illinois |
| | Des Moines Arts Festival, Des Moines, Iowa |
| | The Home Show, Milwaukee, Wisconsin |
| | Featured Artist of the Month, November, Walnut Ink Gallery, Michigan City, Indiana |
| | Indiana Artisan Holiday Marketplace, Fort Wayne, Indiana |
---
| | |
| --- | --- |
| 2013 | Kentucky Crafted: The Market, Lexington, Kentucky |
| | Indiana Artisan Marketplace, Indianapolis, Indiana |
| | American Craft Council Show St. Paul, St. Paul, Minnesota |
| | 57th Street Art Fair, Hyde Park, Chicago Illinois |
| | Des Moines Arts Festival, Des Moines, Iowa |
| | 59th Annual Art Fair on the Square, Lake Forest, IL |
---
| | |
| --- | --- |
| 2012 | Kentucky Crafted: The Market, Lexington, Kentucky |
| | Indiana Artisan Marketplace, Indianapolis, Indiana |
| | American Craft Council Show St. Paul, St. Paul, Minnesota |
| | 57th Street Art Fair, Hyde Park, Chicago, Illinois |
---
| | |
| --- | --- |
| 2011 | Indiana Artisan Marketplace, Indianapolis, Indiana |
| | Lakefront Art Festival, Lubeznik Art Center, Michigan City, Indiana |
| | Visions in Clay, LH Horton Jr Gallery, San Joaquin Delta College, Stockton, California |
| | Art on the Main, The Arts Council of Henderson County, Hendersonville, North Carolina |
---
| | |
| --- | --- |
| 2010 | 16th Annual Nellie Allen Smith Pottery Competition, Fayetteville, North Carolina |
| | Dining In III: An Artful Experience, 18 Hands Gallery, Houston, Texas |
| | Visions in Clay, LH Horton Jr Gallery, San Joaquin Delta College, Stockton, California |
| | 30 Small Works, Gallery UP, Old Town Rock Hill, North Carolina |
| | Tokyo-New York Friendship Ceramic Competition, New York, New York |
| | Containers 2010, Meyers Gallery, Santa Monica, California |